Loves to tell stories about science.  She works as Senior Instrument Scientist at the Australian Centre for Neutron Scattering, ANSTO, and her research interest centre about the structures of materials relevant to the dwarf planets of our solar system.
Helen's journey to exploring these icy worlds began with her degree in Planetary Sciences from University College London and was followed by her PhD in high-pressure physics undertaken at the University of Edinburgh.  Moving to Australia first to a post-doctoral position at the Australian Synchrotron, she moved to the Australian Centre for Neutron Scattering in 2013 to work on the High Intensity Diffractometer (known as Wombat).
When not working on Wombat, Helen also enjoys promoting crystallography and science to as wide an audience as possible, for example she coordinated the 2014 Crystallography365 project, was the 2019 Australian Institute of Physics 'Women in Physics' Lecturer and published her first children's book (I heart Pluto) in 2020.
Chat with Helen on Twitter
Stuart Batten is a Professor of Chemistry at Monash University and loves to make BIG crystal structures.
His research explores the relationship between the structures of molecules and materials and their properties, with a focus on coordination polymers and metal-organic frameworks (MOFs) with novel magnetic properties or the ability to absorb certain molecules (for storing hydrogen, capturing carbon dioxide, separating chemical mixtures, or absorbing pollutants).
After growing up on a farm in country Victoria, Stuart completed a B.Sc(Hons) and a PhD at the University of Melbourne, followed by postdoctoral positions at Bristol, Melbourne and Monash, where he is now a full professor.
Stuart also has a passion for collecting the elements of the periodic table, and has assembled several (mostly) complete collections. In 2019, the International Year of the Periodic Table, he gave the Hartung Lectures to school groups all over Victoria about the Periodic Table, and also designed and made 600 element sample sets which were then distributed free to schools all over Australia.
He is married with two kids, one of which is disabled, and both of which are very naughty. He also has a dog and a rabbit, who are also very naughty.
Electronically, he can be found at stuartbatten.net, followed on Twitter and contacted at stuart.batten@monash.edu.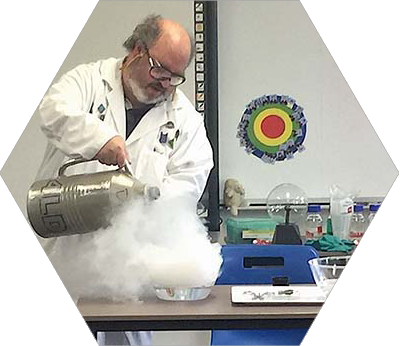 Emily Furlong is a structural biologist at the Victor Chang Cardiac Research Institute. She uses specialised techniques to "see" the nano-machines that bacteria need to survive and cause disease.
Emily's interest in science was sparked during a science camp in high school, which lead to her completing a BSc (Hons) at The University of Queensland. During her undergraduate degree, Emily was immersed in the world of scientific research and subsequently, decided to pursue a PhD at the same institution. After her PhD, she spent 2 years as a postdoctoral scientist at the University of Oxford, UK before returning to Australia in 2021 to start another postdoctoral position in Sydney.
As the only scientist in her family, Emily enjoys the challenge of making her work understandable by members of the public and is passionate about science education (at all ages!). Throughout her PhD she was involved in several science communication initiatives including, the Wonder of Science program and the QLD Women in STEM competition.
You can reach out to Emily on Twitter.
Rosemary Young is a chemist in Melbourne who mixes metals and organic molecules to make metal-organic frameworks and coordination cages.
Rosemary grew up on a potato farm in rural South Australia before going to Adelaide to study a Bachelor of Science at Adelaide University. She then went on to complete her PhD in a joint program between the University of Adelaide and the University of Nottingham, UK. She has now moved to Melbourne where she continues to make beautiful crystals to study chemical reactions and interactions.
Rosemary has been involved in science communication through PenPal with a Scientist, Children's University, Pint of Science and Science Alive!, where she has loved sharing her passion for science (as well as coloured flames and glowing crystals!).
You can find her tweeting at @rosie_j_young.
Bryce is a materials chemistry PhD student at the University of Sydney. He uses high energy radiation to study the structure and interaction of atoms at the nanoscale.
Bryce grew up on the sunny beaches of the Central Coast before moving to the big city to study a Bachelor of Science at the University of Sydney. Whilst spending time with his extended family in rural New South Wales, he developed a passion for renewable energy and helping remote communities access clean water and electricity. This led him to pursue a PhD at the same institution, determining how energy materials such as batteries, fuel cells, and catalysts work to help improve their application within society. Bryce has collaborated through many institutes around the world, undertaking research at the University of Paris-Saclay and Stony Brook University in New York.
When he's not in the lab or on the footy field, Bryce is big on high school engagement in science. He has been a guest speaker at many high schools to discuss recent advances in science, as well as mentored several students through their senior high school and university studies.
Bryce can be found on Twitter here.